This is a translation of an article published on March 4 in the Swedish newspaper Expressen.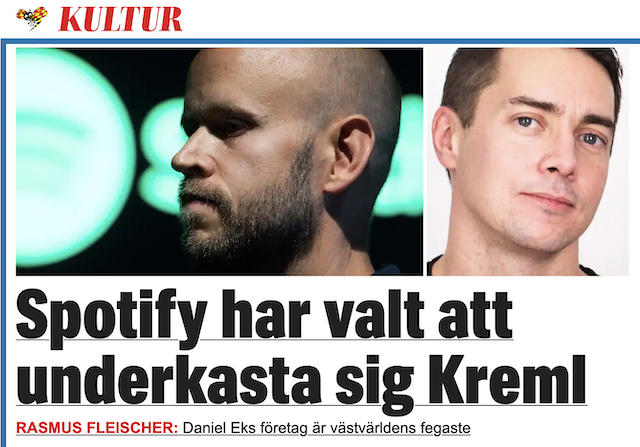 Spotify has taken a stand. Once again, the most cowardly of all possible alternatives was chosen. The company chose to submit to the Kremlin.
Spotify could have suspended all business in Russia, following countless other companies (eventually also Ikea and H&M).
Yet, a better alternative would have been to keep operating, while declaring openly that their media machine will be available for the dissidents in Russia, for the voices opposing Putin's war. Such an action could actually have had some impact, precisely at the time when Russias authorities are closing down the country's last independent media. Then it would maybe just be a matter of time until they also closed down access to Spotify in Russia. But it would at least be a statement, saving the face of Daniel Ek.
At an absolute minimum, Spotify could have let its Russian users face recommended playlists on the theme of "peace". But they did not even dare to do this.
Instead, Spotify chose to submit to Russia's censorship laws. It is a shameful choice that should not be forgotten. Let me therefore sum up the background.
One month ago – as Russia continued to gather troops around Ukraine's borders – Russian media reported that Spotify had opened a representative office in Moscow. At the same time, the company registered itself at the censorship authority Roskomnadzor.
One week ago – when the invasion was underway – I drew attention to this in a tweet. After some quick research, I also noticed that Spotify had posted a job ad. The Moscow office was looking for a manager "to lead the development of our Russian language podcast strategy to further develop the regional podcast ecosystem".
Here we may take a break to consider the fact that Russian is not only the language of one country, Russia. It is also the native language for millions of Ukrainians and Belarusians. Therefore it is far from obvious that a Russian-language podcast initiative should be based in Russia. For an organization serious about defending free speech, it might have made more sense to locate the office in the Ukrainian capital of Kyiv: a predominantly Russian-speaking city, which in recent years has also served as a refuge for many dissidents from Russia and Belarus.
Still, Spotify chose the path of submission. Why? Seemingly just to get a bit closer to the treasuries of the region's greatest kleptocrats.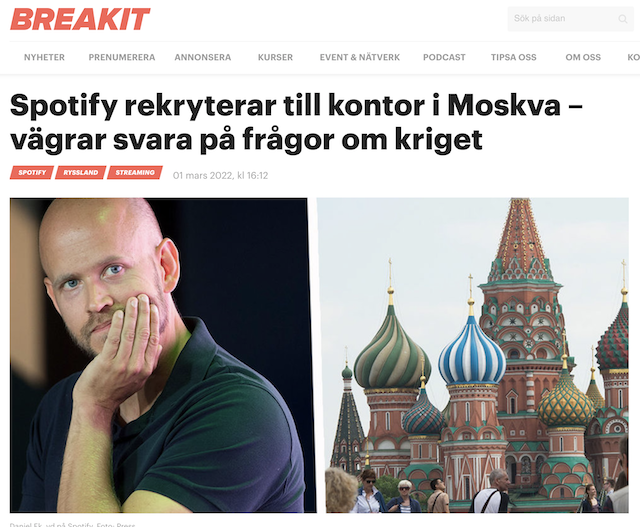 After I had drawn attention to Spotify's operations in Russia, it was picked up by the Swedish news site Breakit. Its reporter made repeated attempts to get a comment from Spotify. However, the western world's most cowardly media company refused to respond. The job advertisement was subtly taken down. The days went by. The bombs fell on Ukraine. The news of Spotify's cowardice threatened to spread from Sweden to the rest of the world.
On Wednesday night [March 2], Spotify announced that it is closing its Moscow office – but not its business in Russia, which will keep operating, submitting to the decrees of Roskomnadzor. It should also be noted that this announcement was only made in Swedish and English. Nothing is mentioned at Spotify's Russian accounts on Twitter or Instagram. Just happy faces and nice music. Don't mention the war!
When communicating to a Western audience, Spotify claims to have removed all podcasts from the Kremlin's propaganda agencies RT and Sputnik, as a response to Russia's invasion of Ukraine. This claim is quite dubious. Where any such podcasts hosted by Spotify to begin with? One week ago, I was searching on Spotify for material with precisely these senders – without finding anything results. While it is possible that some podcasts have been taken down, this seems more like an attempt to signal that one is following the same script as all other digital media corporations.
The problem was never that Spotify would serve as a platform for Putin's war propaganda. In that context, podcasts do indeed play a marginal role. As a media format, it has yet not gained much popularity in Russia. Youtube is infinitely more important.
Russia's perhaps biggest youtuber is named Yuri Dud, with 10 million followers. In recent weeks ha has also used his Instagram account to protest. Not only against the war and against Putin's "imperialist frenzy", but also more broadly against "the suppression of human will in Russia".
As I write this, the State Duma has just decided that such utterances will be criminalized and may be punished with prison. At the same time, both Instagram and Youtube have been blocked in Russia. But not Spotify.
It could have chosen to offer a new platform to Yuri Dud, to the radio channel Echo Moskvy which was just pulled off air, or to Russian dissidents in exile. Offer them just a minuscule fraction of the $200 million that has already been paid to Joe Rogan. But no. Spotify chose the path of cowardice.
RASMUS FLEISCHER
is a researcher in economic history at Stockholm University. He has co-authored two books on Spotify,
Spotify Teardown
(MIT Press, 2019) and
Den svenska enhörningen
(Mondial, 2018).