Överallt görs nu jämförelsen mellan Taksim (2013) och Tahrir (2011). Även om vi inte får stirra oss blinda på de symboliska platserna, är det i högsta grad angeläget att jämföra den nya upprorsvågen i Turkiet med erfarenheterna från 2011 års internationella upprorsvåg.
Syftet med det här inlägget är inte att driva någon tes. Det är främst en länksamling, kryddad med citat från de länkade texterna. Därtill enstaka, lösryckta fakta. Andra är bättre ägnade att pussla samman alltsammans.
Alla rimliga analyser av 2011 års upprorsvåg kretsar kring ekonomiska faktorer, däribland matpriser men främst kanske frågan om s.k. ungdomsarbetslöshet. Unga människor "med examen men utan framtid" spelade en nyckelroll i torgrörelserna på båda sidor om Medelhavet och på båda sidor om Nordatlanten. Det var i länder med särdeles hög ungdomsarbetslöshet som protesterna tenderade att slå över i uppror.
Turkiet är ett land som utmärker sig för en relativt låg arbetslöshet och hög kapitaltillväxt, särskilt i jämförelse med sina grannländer kring Medelhavet. Arbetslösheten bland unga är lägre i Turkiet än i Sverige, enligt officiell statistik. ILO kom nyligen med rapporten "Global employment trends for youth 2013", där Turkiet utpekades som ett av få positiva exempel i världen. Landet som utmärkte sig som vinnare i världskrisens skärpta konkurrens. Just där brakar det loss!
Det tycks bara alltför lätt att hamna i ett val mellan två ömsesidigt uteslutande förklaringar: den globala ekonomin eller den nationella politiken. Eftersom detta till skillnad från 2011 inte blossar upp som en brödrevolt, blir då slutsatsen att det är en politisk protest som riktar sig mot Turkiets specifika regering. Upprorsanalysen bör nog undvika ett sådant val mellan antingen ekonomiska eller politiska förklaringar.
Här är några engelskspråkiga artiklar som ger en fylligare bakgrund till händelseförloppet i Istanbul: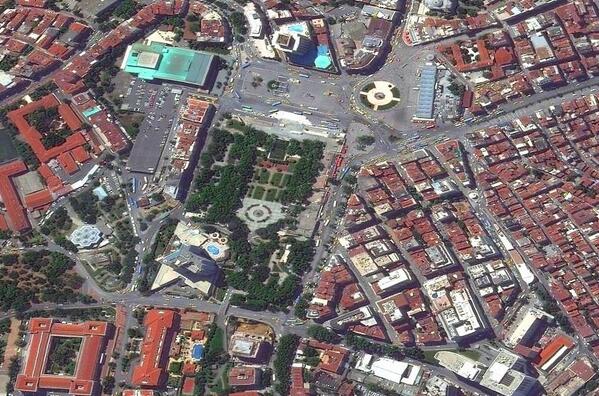 Motståndet formerade sig mot ett kommunalt projekt för s.k. stadsförnyelse. Ett av Istanbuls få gröna andningshål skulle förvandlas till ännu ett stort köpcenter, till råga på allt inhyst i en återuppbyggd kopia av osmanska militärbaracker. Protesten riktar sig alltså både mot "den hänsynlösa kommodifieringen och rationaliseringen av stadsrummet, liksom mot AKP:s politik för (neo-osmansk) islamisering", skriver ?smail Do?a Karate & Axel Gehring. "Rätten till staden" var en central paroll för de grupper vars mobilisering mot parkskövlingen snabbt eskalerade under de sista dagarna av maj 2013. Jay Cassano ger en bra bakgrund:
The shopping mall is only one component of a plan to entirely redesign Taksim Square into a more car-friendly, tourist-accommodating, and sanitized urban center. /…/
Taksim Square is the heart and soul of Istanbul. It is common sense to Istanbulites that if a revolution is to come to Turkey, it would begin in Taksim. Protests are regularly held in the square, and issues run the full gamut of concerns of Turkish citizens: LGBT equality, recognition of the Armenian Genocide, an end to the Kurdish conflict, an end to military conscription, economic justice, and more. In 2011, there was a massive one-day protest in support of a free and open internet that drew upwards of thirty thousand people.
Taksim is also home to a massive May Day protest every year, in part a response to the Taksim Square Massacre on May Day 1977. /…/
The new Taksim will eliminate mass pedestrian entrances from all sides in favor of car tunnels, making it an impractical site to protest and congregate. In short, it will be reduced to a photo-op for tourists who pass through for five minutes and then continue on with their tax-free shopping.
Another key launching point was the planned construction of a third bridge crossing over the Bosphorus in Istanbul. Ground broke on construction of the third bridge on the first day of the protest and was one of the main concerns expressed by protesters, even though they were occupying Gezi Park and not the bridge construction site.
Stadsutveckling i Istanbul betyder alltså att befintliga samlingsplatser och bostadskvarter jämnas med marken, till förmån för köpcenter, turistinrättningar och lyxbostäder. Kort sagt: gentrifiering.
Det sägs att kravallerna betyder att Istanbul nu kan räknas bort som kandidat till OS år 2020. Detta får räknas som en betydelsefull delseger för demonstranterna att de slipper ett utbrott av olympofascism!
Zihni Özdil skriver:
Like all Prime Minister Erdogan's recent gentrification projects, development plans for Gezi Park were meant to enrich companies tied to the ruling AKP party, and to maintain Turkey's GDP growth by stimulating consumption fueled by a credit card, rather than, real income boom.
/…/
Erdogan's vision of Turkey is one full of citizens who piously pray in the country's ubiquitous mosques and then go shopping at one of its equally ubiquitous malls, which are frantically being built in urban areas.
As long as the imports, credit card, and debt-driven Turkish economic bubble remains intact, the government will continue to pursue these and other neoliberal policies to the great praise of western think-thanks, private equity firms, and politicians who all repeat the fallacy of the 'Turkish [success] model'.
Notwithstanding these neoliberal economic policies, Erdogan is still extremely popular among Turkey's poor and working people in both urban and rural areas.
Most western observers have missed this crucial fact and are, therefore, quick to enthusiastically compare the Gezi Park protests with the 'Arab Spring'.
Jag vill sticka in en hastig tanke: Erdo?an (Turkiet) påminner allt mer om Orbán (Ungern), som i sin tur påminner allt mer om Putin.
Åter till Zihni Özdil:
Mass labor protests, like those that preceded and directly influenced the April 6th movement in Egypt, are largely absent from Gezi Park. Disenfranchised, jobless youth from the slums have generally stayed away from the demonstrations so far. Pious girls with headscarves who want more liberties are also absent.
As long as these girls in headscarves, mechanics, poor vendors, construction workers, and jobless Anatolian youth are not protesting in Taksim Square, a comparison with Egypt's Tahrir Square is misplaced.
The youth demonstrating in Gezi Park and in solidarity protests in secular bastions across Turkey hail from several groups opposing Erdogan. Nevertheless, young people from the country's mainly upper-class, secular 'white Turk' social strata are the key driving force.
In this sense, these demonstrations represent one of the last convulsions of the old 'secular' elites, who have been waging, and losing, a bitter battle against the rising Anatolian nouveau-riche that make up Erdogan's AKP.
Min känsla är att Zihni Özdil nog ändå har en alltför stark slagsida mot det politisk-nationella i sin analys. Jussi Parikka noterar:
Besides internally about Turkey, the events reveal a lot about the logic of capital: it benefits from authoritarian state measures and tight security controls. /…/
In any case, the question "Occupy or Tahrir" is actually: what is the specific case of Turkey? Besides revealing details of more global trends of how capitalism enjoys authoritarian regimes (see Zizek on this point) it demands the continuous question of what then is happening specifically in Turkey.
Discussing with my friends in Istanbul, one thing popped up when they narrate the events of the past days: even they, participating, just don't know everything. They are not sure how things will develop, but they remain hopeful. There is a sense of momentum and an affect that binds across groups, but also the question "who are we", referring to the protestors, is an open one.
Visst finns det gott om argument för att Taksim inte är Tahrir. Desto bättre! En s.k. revolution av tunisiskt, libyskt eller egyptiskt snitt är inget ideal att upphöja.