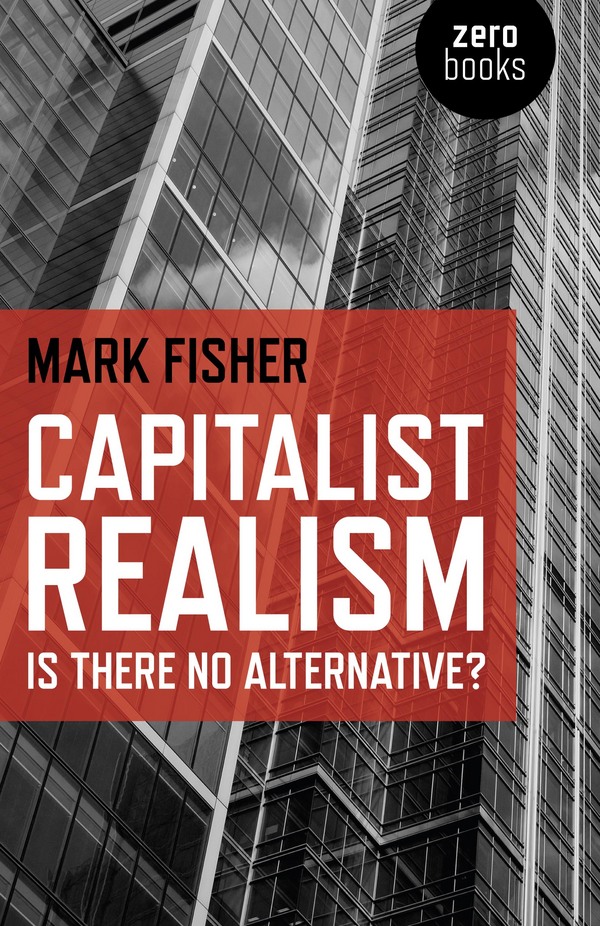 Capitalist realism är ingen snygg titel på en bok – där finns minst en -ism för mycket, kort sagt. Fredrik Edin likställde begreppet med "realkapitalism", vilket boken visserligen kan sägas handla om. Men när Mark Fisher skriver "capitalist realism" syftar han inte på en reell ekonomisk ordning utan på dess korresponderande ideologi, som han menar är just en slags realism: kapitalrealism.
Kapitalrealismen kanske kan sammanfattas så här: Man erkänner att världsordningen inte är perfekt, men ändå är oförmögen att tänka sig något ordentligt alternativ som inte är ännu sämre, vilket effektivt blockerar politiskt handlande. Hela denna "atmosfär" fångas i en fras som har tillskrivits Fredric Jameson: Det är lättare att föreställa sig jordens undergång än att föreställa sig kapitalismens undergång..
The 'realism' here is analogous to the deflationary perspective of a depressive who believes that any positive state, any hope, is a dangerous illusion.
Mark Fisher erkänner genast att capitalist realism i grunden är samma sak som vad Fredric Jameson betecknade med det problematiska ordet postmodernism, det vill säga "senkapitalismens kulturella logik". Nu ska det sägas att jag verkligen har svårt för ordet "senkapitalismen" – det har i sig noll analytiskt värde och används oftast av marxister som vill låta softistikerade, när de lika gärna hade kunnat skriva t.ex. "samtiden". Men okej, Fisher ger goda skäl till varför Jameson kan behöva uppdateras. Han väljer att göra det med hjälp av sina två andra intellektuella fixstjärnor, Badiou och Žižek, men är som bäst när han utgår från egna erfarenheter.
Begreppet "marknadsstalism" definieras utifrån Mark Fishers erfarenheter som lärare inom den brittiska motsvarigheten till komvux. Där förfärades han över den extrema byråkrati som tenderade att ta över allt som görs, vilket han analyserar som en följd av de senaste 30 årens föregivna marknadsanpassning av offentliga verksamheter. Trots att förändringen gått i en riktning som hela tiden sagts vara antibyråkratisk, blir resultatet på sina håll det rakt motsatta.
This is in part a consequence of the inherent resistance of certain processes and services to marketization. (The supposed marketization of education, for instance, rests on a confused and underdeveloped analogy: are students the consumers of the service or its product?) The idealized market was supposed to deliver 'friction free' exchanges, in which the desires of consumers would be met directly, without the need for intervention or mediation by regulatory agencies. Yet the drive to assess the performance of workers and to measure forms of labor which, by their nature, are resistant to quantification, has inevitably required additional layers of management and bureaucracy.
Postmoderna femårsplaner är ett fenomen som kan associeras med marknadsstalinismen. Arbetet inriktas på att uppfylla vissa symboliska "mål", eller snarare på att kommunicera hur bra man är på att uppfylla vissa mål, vilket helt överskuggar de verkliga syftena. Massor av kraft läggs på utvärdering och revision – som "bäst kan förstås som en fusion av PR och byråkrati" – och det uppstår ibland en kultur av ritualiserad självkritik som får tankarna till maoismens bekännelseritualer.
Så här långt handlar det främst om den byråkratiska explosionen inom skattefinansierade verksamheter, framför allt forskning och undervisning, efter intåget av så kallad "new public management" (som knappast är särskilt nytt längre). Men här visas också på en nära parallell inom massmedier och populärkultur. Akademins eviga utvärderande motsvaras här av läsar-, tittar- och lyssnarstatistik som gradvis har ersatt det tidigare redaktionella ansvarstagandet som förvisso hade en "paternalistisk" prägel. Massmediernas redaktörer vägrar ge publiken någonting annat än vad den redan bekräftat att den vill ha. Att göra någonting annat uppfattas som elitism – men varför?
To tell people how to lose weight, or how to decorate their house, is acceptable; but to call for any kind of cultural improvement is to be oppressive and elitist. The alleged elitism and oppression cannot consist in the notion that a third party might know someone's interest better than they know it themselves, since, presumably smokers are deemed either to be unaware of their interests or incapable of acting in accordance with them. No: the problem is that only certain types of interest are deemed relevant, since they reflect values that are held to be consensual. Losing weight, decorating your house and improving your appearance belong to the 'consentimental' regime.
/…/
In a seeming irony, the media class's refusal to be paternalistic has not produced a bottom-up culture of breathtaking diversity, but one that is increasingly infantilized. By contrast, it is paternalistic cultures that treat audiences as adults, assuming that they can cope with cultural products that are complex and intellec- tually demanding. The reason that focus groups and capitalist feedback systems fail, even when they generate commodities that are immensely popular, is that people do not know what they want. This is not only because people's desire is already present but concealed from them (although this is often the case). Rather, the most powerful forms of desire are precisely cravings for the strange, the unexpected, the weird. These can only be supplied by artists and media professionals who are prepared to give people something different from that which already satisfies them; by those, that is to say, prepared to take a certain kind of risk.
/…/
It is another irony that capitalism's 'society of risk' is much less likely to take this kind of risk than was the supposedly stodgy, centralized culture of the postwar social consensus. It was the public service-oriented BBC /…/ that also funded the popular avant gardism of the BBC Radiophonic Workshop, which embedded sonic experimentalism into everyday life. Such innovations are unthinkable now that the public has been displaced by the consumer. The effect of permanent structural instability, the 'cancellation of the long term', is invariably stagnation and conservatism, not innovation. This is not a paradox.
Så även om det i teorin vore tänkbart att ett uppbrutet radiomonopol skulle skapa större mångfald, har det funnits andra och starkare mekanismer som drivit utbudet mot en ny konformitet. Mark Fisher talar inte för någon simpel återgång. Han pläderar över huvud tagit inte på en nivå av realpolitik, utan lanserar det lätt komiska begreppet "Marxist Supernanny", vars innebörd lämnas ganska öppen. Det kan förstås som en sammanskruvning av å ena sidan teveprogrammet Supernanny, å andra sidan "Nanny state" som från högerhåll använts som skällsord för vad vi i Sverige kallar för Folkhemmet.
the concept of the Nanny State continues to haunt capitalist realism. The specter of big government plays an essential libidinal function for capitalist realism.
Frågorna om elitism, paternalism, och statsauktoritet spelas ut mot en psykoanalytisk bakgrund, där Mark Fisher tenderar att inta positioner nära Slavoj Žižek, även om han ibland försöker förena dem med den schizoanalytiska traditionen från Guattari. Ett av bokens mer konkreta förslag för politisk handling är att vi åter måste politisera frågor om mental hälsa och stressens privatisering.
In the 1960s and 1970s, radical theory and politics (Laing, Foucault, Deleuze and Guattari, etc.) coalesced around extreme mental conditions such as schizophrenia, arguing, for instance, that madness was not a natural, but a political, category. But what is needed now is a politicization of much more common disorders. /…/
if, as Deleuze and Guattari argue, schizophrenia is the condition that marks the outer edges of capitalism, then bi-polar disorder is the mental illness proper to the 'interior' of capitalism. With its ceaseless boom and bust cycles, capitalism is itself fundamentally and irreducibly bi-polar /…/
We must convert widespread mental health problems from medicalized conditions into effective antagonisms. Affective disorders are forms of captured discontent; this disaffection can and must be channeled outwards, directed towards its real cause, Capital.
Auf die Krankheit eine Waffen machen, med andra ord.
Summa summarum är Capitalist Realism i kraft av sitt korta omfång en klart läsvärd bok, inte minst med tanke på hur den i förbifarten historicerar Kurt Cobain, Live Aid och andra fenomen från de senaste trettio årens europeiska historia. Som politisk manual ställer den en rad frågor som det ska bli intressant att se andra plocka upp. Som sagt: Capitalist Realism finns nu som pdf på Aaaarg.